---
Rotary is a worldwide organization with the Shanklin club being one of the 32,000 clubs. Consisting of business and professional leaders the club raise money to help humanitarian issues and continue with the worldwide objective of building goodwill and peace throughout the world.
This is made from recycled metal shelves, hammered and welded into shape then lacquered. This piece was commissioned by the Shanklin Rotary Club and is the centrepiece of their charity collection point. Located in Shanklin Old Village (Isle of Wight) coins are placed in the top of the shell and roll down into a well. Size: 1500mm.


---
The primary school is one of the smallest schools on the Island and is described by many as a 'Very Happy Little School'.
The latest OFSTED report found that there was a happy, welcoming environment with good teaching standards and pupil's attainment was high.

Made from driftwood collected on the local shore. The driftwood has travelled from all over the planet and finally ended up on the beach of a tiny village. 'Even the smallest of people or places can be the centre of the world'.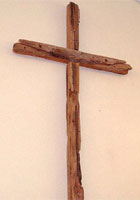 ---
This piece was commissioned as a present for someone who was leaving the Island to live and work elsewhere. Made of reclaimed steel, the ammonite form a reminder of the coast left behind. The ammonite is also filled with shingle from a local beach and when turned it sounds as though you are once again listening to the waves crash on the shore.



---
This waved piece was evolved from the story of a man search for his Great Grandfathers life story. The three small round stones within the cannon ball form – he was a sailor – represent the three stages of discovery. One encased and unseen, one viewed through a small hole and one which is free to be handled when the piece is taken in two. Size: 150mm.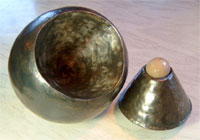 ---
This reclaimed steel waxed piece contains shingle from the beach where the recipient played as a child. Size: 150mm.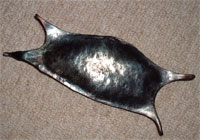 ---
Commissioned as a gift for someone who works with animals and has a love of South American art. This Aztec Sun Dog is carved from a block made from cement and fire ash. Size: 300mm.